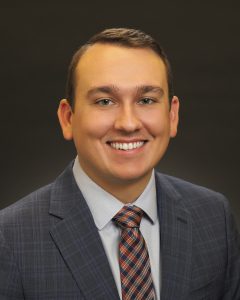 It was during a summer internship with Tyler Insurance Group that Andrew developed a strong interest in the insurance industry. While obtaining a Master of Health Administration degree from the University of Kentucky, Andrew completed multiple internships at Norton HealthCare and the University of Kentucky Health System. Through these experiences, Andrew developed a passion for serving others and decided to come back to Las Vegas and begin his professional career.
He enjoys educating consumers on the ins and outs of health insurance and prides himself in always doing right by the client. Quickly growing from an Agent to an Agent Manager, Andrew enjoys what he does and is thankful for the opportunity to help others make the best decision possible for their family.
Andrew primarily serves the Nevada and Kentucky markets and specializes in Medicare, Individual Health Insurance, Employer Group coverage, and Life Insurance.
Andrew enjoys playing golf, hiking, and spending time with his wife, two dogs, and 2-year-old daughter.