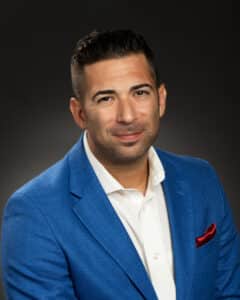 With over a decade of insurance experience, Jeremy Boz has one focus: help consumers understand what best fits their needs, while helping them protect their family. The importance of a proper plan cannot be understated. Jeremy's personal mission is to educate and protect the consumer and their family while delivering an unparalleled service with an emphasis on caring and compassion.
Jeremy has worked for industry leaders such as Anthem BCBS and UnitedHealthcare. With positions ranging from a Team Lead to an Agent Manager, Jeremy has consistently dedicated himself to his team and the consumer in order to deliver the best experience possible.
Jeremy also considers himself a local in Las Vegas, Jeremy completed his MBA at the University of Nevada Las Vegas in December of 2010. He is consistently dedicated to helping consumers in the Las Vegas market.
Jeremy joined the Tyler Insurance Group due to their dedication to the consumer. The Tyler Insurance Group delivers an unmatched, personalized service while simultaneously educating the consumer. It is this consumer focused drive which Jeremy believes gives him the greatest opportunity to assist the consumer.