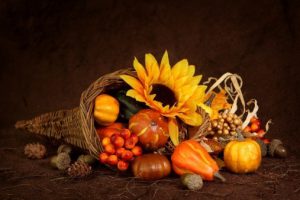 What says Thanksgiving better than roasted turkey, candied yams, creamy mashed potatoes and butter-soaked dinner rolls? Of course, there's pumpkin pie, apple pie and pecan pie as well! A great American tradition, Thanksgiving may not be so great for your health! And as your provider of health insurance in Las Vegas, we want to give you a few tips on staying healthy and fit during the holiday season.
Stay Healthy This Thanksgiving with Health Insurance in Las Vegas
Eat breakfast: Like many Americans, you may opt to starve yourself Thanksgiving morning in anticipation of your gluttonous dinner to come. But this isn't a great idea. Not eating breakfast can actually make you more likely to go overboard on that corn bread stuffing or creamed spinach. Having a light but protein-rich breakfast can actually make you feel more satisfied before the meal – helping ensure that you eat smaller portions.
Move around: Got a local turkey trop in mind? Go for it! Getting a good workout can help you burn off extra calories and create a caloric deficit to help you maintain or lose weight. If you don't feel like hitting the gym on a holiday, turn your activity into a family affair by going for a family bike ride, jog or walk – or spending the morning tossing the football around.
Portion it out: Is your Thanksgiving plate too small for the mountain of mashed potatoes and gravy you're trying to heap on it? Thanksgiving is definitely the time when you can splurge on those special dishes, but be careful not to overload. Have some pumpkin pie, but keep your portion to a moderate slice. A buttery dinner roll is a good addition to your meal, but try not to eat a dozen.
Be sure your Las Vegas health insurance plan is in order: This Thanksgiving is affecting your health in more ways than one. Big changes are occurring all over the United States with regard to healthcare reform. Make sure you have the health insurance you and your family need now to avoid paying penalties in the future.
From our firm to your family, have a safe and healthy Thanksgiving!