When it comes to planning for your family's financial future, your peace of mind hinges on the strength of your foundation. That's why, at Tyler Insurance Group, we offer our clients a range of financial planning products and services all focused on protecting your family's health, wealth and happiness. As one of Dave Ramsey's Endorsed Local Providers, Tyler Insurance is ready to help you build your family's financial foundation – step by step.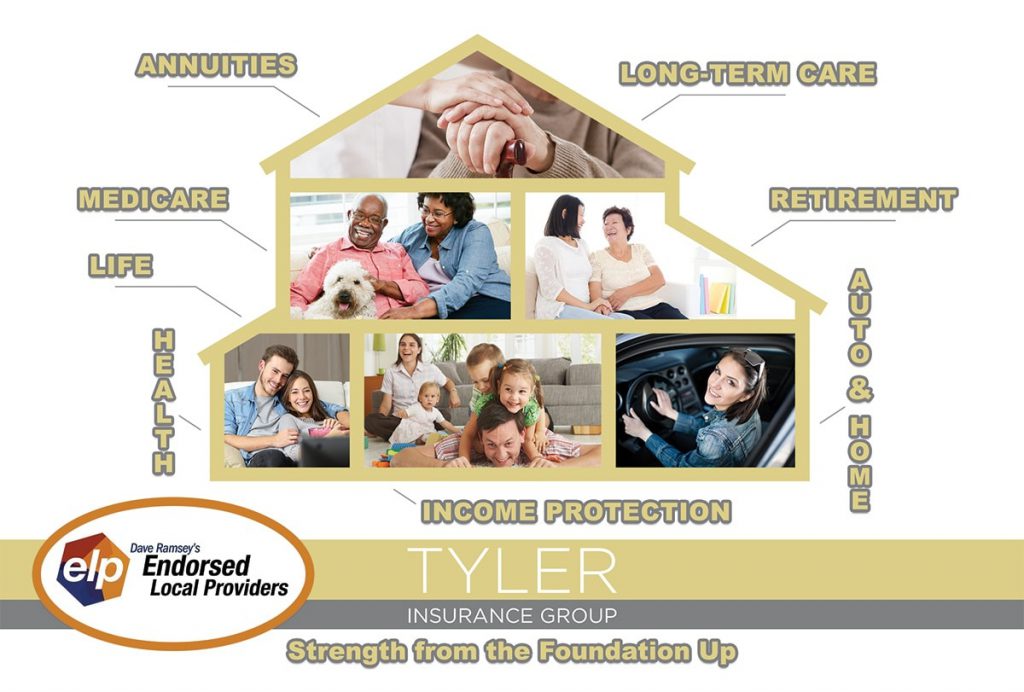 Protect Your Health
Not only is health insurance now a federally mandated requirement, it's also just financially shrewd. Paying out of pocket for a catastrophic medical event or procedure, for example, could drain your savings, prolong your ability to retire and jeopardize your assets. We can help you find a health insurance plan that works for your family's needs and budget.
Plan for the Worst
When it comes to your career, life gives you no guarantees. And if something happens to you that prevents you from doing what you love and at which you excel, you'll find yourself facing some difficult times. Our income protection products can give you peace of mind of knowing your income is protected – even if an accident or injury prevents you from working.
Cover Your Auto and Home
Your home and car(s) are both a blessing and a liability. A home is likely the largest investment you'll ever make, and losing that home due to an unforeseen accident or disaster can sabotage your financial future. Our auto and home insurance policies can help you protect your assets and investments, while also covering your liability for unforeseen accidents or events.
Insure Your Life
Life insurance isn't just about planning for your loved ones in the event that worst occurs; it can also be a great investment tool. We offer both term and whole life insurance products to suit your specific needs.
Focus on the Long-Term
Retirement might seem like a long way away, but now is the time to start planning for your golden years. Not only is a retirement savings plan an important component of your financial foundation, but today's economic environment has made it a critical part of protecting your family. Keep in mind that the ability to cover long-term care should be included as you plan for retirement.
Ready to build (or improve) your family's financial foundation? Call us today.